Let's all get buckled in together because there's a lot to unpack from last night's episode of Heart Attack Island. Where does one even begin!?
Last week I saw the first signs of my fiance's relationship with Yoga Bae Brittney start to deteriorate. This week they fully split up over the Hannah/John situation. I'm really proud of Pancake for seeing that his fantasy girlfriend is just SO wrong.
Hannah confronted John last week for his motives and attitudes towards being on the island and in part for how he was treating Kathryn and John clearly cannot handle any kind of confrontation. He likened Hannah's very calm conversation to how his girlfriend Kady treats him. The only problem there is that Kady questions John's masculinity while Hannah was just trying to get John to consider other people's feelings in the house.
Pancake and I are no longer team John. However, I am still firmly against Kady as she continues on her journey of supporting and upholding toxic masculinity.
Instead of picking dates at the Mountain and Beach villas (and my couch) this week was elimination week. Because of her man challenging spirit Hannah was nominated for elimination along with Tara and Sheldyn. It was super annoying that Hannah decided to apologize to John but whatever, she's playing the game and this is essentially a vacation since she hasn't been on a date lately.
Tara and Sheldyn were ultimately sent home but Pancake says he would've kept Tara around longer as she only recently started coming out her shell. He REALLY wanted to get rid of Morgan. More on that later.
On the girls' side of the house, three white guys with the exact same haircut and possibly the same face were put up for elimination. I did not know who these guys were so the loss of two of them really made me feel nothing. Personally, I would have eliminated Val and Dr. John because they are both self-centered assholes.
Time for the big piece of the evening...
MORGAN AND EVAN HAD SEXUAL INTERCOURSE. WITH EACH OTHER!
Now, I assumed there would be a degree of cheating on the show - it's not called Faithful Island - but I didn't think anyone would have the cojones to actually have sex with one of the singles especially knowing that their counterpart might see footage of that. I honestly don't know what is worse, that Evan is sleeping with Morgan or that they're both now professing their love for each other.
And what exactly is there to love about Morgan? She seems so lacking in the personality department and yet Evan says that she is "everything" he's ever wanted. So then what does that mean about Kaci? That he was with her for three years even though she was lacking? Is this just lusty hyperbole? What makes Morgan so special in this man's eyes. But most importantly why does he constantly call her 'girl'. She's a grown woman, Evan. Stop being weird.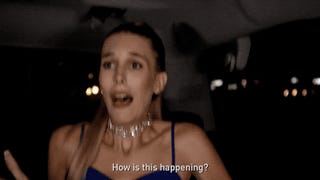 To everyone's (including the producers') surprise, at the bonfire that night Kaci did not watch the footage given to her nor did she share it with the Fab 4. She did, however, listen to it and know that there is someone in Evan's bed but she doesn't know for sure as the audience does, that it's Morgan and that it is %1000 sex. So. We'll see. According to Twitter, not only did Kaci never watch this footage - she didn't watch this episode and muted the Temptation Island hashtag to avoid reading about it. Whatchu doin sis?
Next week the couples will have the opportunity to record videos and send them to each other which will be the only contact they've had in weeks. I hope Evan's video involves a fuck ton of truth-telling. I hope most of all that Shari lets her sub-par man know that she is above, beyond, and more mature than when they first started this journey and he now needs to get on HER level.
GRLPWR!